Description
With the 20*4.0″ Fat Tire AKEZ Electric Scooter Bike S1, there's no terrain you can't go on. Go camping, ride those slopes, hit the dusty trails, and enjoy nature at its best.
20*4.0″ fat tire AKEZ E Scooter Bike S1 is the perfect companion for those who like to explore, such as off-road jungle, adventures and hunting. Particularly, It is very suitable for driving on rough mountain trails, beaches, and even soft snow. This is because fat tire electric bike can effectively reduce noise and vibration, and increase riding comfort.
Firstly, manpower mode (without electric). No need to turn on the power, ride just like a normal bicycle. Obviously, it is conducive to exercise.
Secondly, pedal assist mode. Turn on the power and slightly step on the pedal to instantly output power. Moreover, AKEZ electric fat tire scooter bike S1 has a 5 gear PAS. Generally, different electric assist levels are used in combination with mechanical gears to maintain stability. So, it can deal with various terrains, extend battery life and run farther. 
Thirdly, pure electric mode. After turning on the power, twist the throttle on the handlebar to automatically run, making riding easier and more efficient.
In a word, different modes can be selected according to your needs. Therefore, you can get enough riding exercise and enjoy a pleasant riding experience.
Front & Rear Shock Absorber On AKEZ Electric Scooter Bike S1

The front and rear suspension system is the best choice for ultimate performance, because it improves the AKEZ fat tire ebike's traction, control, and rider comfort.
On the one hand, the full shockproof system keeps your tires stay in contact with the ground when riding on rugged ground, and bumps. On the other hand, when long distances riding,  it will improve traction, instead of rebounding from bumps and losing grip, and reducing the risk of making mistakes on rough terrain. Besides, when you hit the roots and rocks at high speed, the full-suspension electric bike will also significantly weaken the force through the pedals and handlebars. 
In brief, smoother riding will undoubtedly help improve comfort and avoid fatigue during long-distance riding and competitions.
More Details About AKEZ Electric Fat Tire Scooter Bike S1

No terrain is too tough for the fat tire AKEZ Electric Scooter Bike, you can tackle hills and ride on terrains you've only dreamed of!
Long Range Removable Battery

Fat tire AKEZ Electric Scooter Bike S1 is equipped with a 48V 13Ah large capacity Lithium-ion battery. Therefore, this fat tire ebike can easily power your most ambitious riding adventures with 35-45 miles of range (PAS mode) and 32 miles of range (electric mode). What's more, it can be upgraded with dual batteries, then the bike range will be doubled. So, you can always enjoy a longer trip. Besides, the battery pack is detachable and convenient to charge. It can be charged at home or in the office.
750W Efficient Brushless Motor

Equipped with a 750W high-speed brushless hub motor, providing more than enough power for your daily commute and outdoor adventures. Firstly, it can adapt to more bumps, no pressure 30° climb. Secondly, acceleration is exhilaratingly smooth, fast, and silent. Especially, twisting the throttle on the right-side handlebar when you want temporary assistance: the more it is turned, the higher the assist and faster the speed. The top speed of this fat tire AKEZ E Cruiser Bike S1 can reach 28MPH (45KM/H).
20*4.0″ All-Terrain Fat Tires

If you are looking for a fat tire electric bike, then it is undoubtedly your best choice, because AKEZ mountain e-bike S1 is equipped with 20*4.0 inch all-terrain thick tires, which can not only reduce vibration when riding, but also provide upgraded grip and traction on rugged roads. Even on the most challenging terrains and weather conditions, these fat tires can guarantee your safety and offer you an easy and smooth riding experience.

As can be seen, AKEZ electric fat tire scooter bike S1 is equipped with an M5 smart LCD display, which provides you with a range of information to help you keep track of your riding conditions. Such as total mileage, battery level, speed, and 1~5 pedal assist level. Meanwhile, the display is equipped with three buttons to control the three riding modes and 5-level pedal assist mode. Also, the backlight design makes the display clearly visible no matter day or night.
High-Visibility LED Headlight

The design of LED front light allows you to see the road ahead clearly when riding at night, making it safer and clearer. Moreover, the circular LED headlight has a wider and farther working range, and has a built-in electronic horn, making you safer when riding.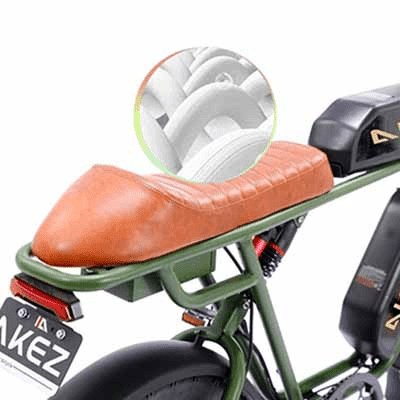 Enhanced Comfortable Saddle

This oversized seat is really comfortable to sit on even for a few hours. So, you don't need to spend extra money to replace a new one. What's more, the extra-wide design combined with the rear shock absorption help you to drive more smoothly on rough terrain.

AKEZ fat tire ebike S1 is also equipped with a tail brake light, which is very useful when you ride in the city. When braking, the tail light will light up, reminding pedestrians behind you to notice that you are braking. Accordingly, tail brake light turning indicator protects your safety in the shade or at night.

Shimano 7-speed system allows you to find a more comfortable pedaling cadence under different riding conditions. Combined with 5-level power assist mode, you can go farther without feeling exhausted when you are done. AKEZ fat tire e bike makes your ride easy and effortless, no worries about sweating.
The Best Choice Of Your First Off-Road Electric Bike
Join AKEZ Electric Scooter Bike Riders
Motor : 48V 500W Brushless hub motor
Top Speed: 28MPH (45KM/H)
Battery: 48V,13Ah(624Wh) removable Lithium-ion battery
Charging Time: 4~5 hours
Mileage: Pure Electric Mode: 32+Miles (50KM); Pedal Assist Mode: 35-45 miles
Intelligent LCD Display: Showing speed, gear, mileage and battery power
Pedal Assist: Intelligent 0~5 level pedal assist
Bike Frame: High carbon steel frame
Transmission: Shimano 7 speed gear system 
Brake: Dual machanical disc brakes (front + rear)
Brake Lever:  Aluminum alloy comfort grip levers with motor cutoff switch
Throttle: Half Twist Throttle on Handlebars
Front Fork: Aluminum alloy front suspension fork
Rear Suspension: Spring rear shock absorber
Tires: 20″ x 4.0″ fat tires
Recommend Height:  5'2″ to 6'5″
Front Light:  LED light
Saddle: Breathable ergonomic sport cushion seat
Pedals: Aluminum alloy for eMTB
Grade Ability: 30 degrees
Other Function: Horn Button 
Gross Weight: 84 Ibs (38KG)
Bike Size(L*W*H): 166/72/106CM
Payload: 330 lbs
Certification: CE
Allay your worries:    
     
Firstly, AKEZ E-Bike is 85% pre-assembled when you receive it. Besides, all AKEZ E Bikes come with a whole set of tool to help you build up the bike easily and quickly. We can also provide technical guides to help you solve common cycling problems.           
Packing list :          
20*4.0″ Fat Tire AKEZ Electric Bike S1 x 1
Battery Charger x 1
Installation Tools x 1
User Manual x 1